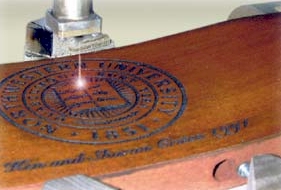 Businesses: Add your company logo, a slogan, employee name, officer's name, title, years of service, etc. This is the chair that should be in the President's Office. Our chairs and rockers are one of the best-liked retirement gifts an employee can receive. Tired of giving a clock or plaque as a recognition gift? For about the same price, you can give a hand-crafted, custom made chair, rocker or lamp.
Personal: Get a classic, heirloom quality chair, rocker or lamp for yourself, a family member, or as a gift for an expectant mother, a friend, anyone. Get a child's rocker with the name and birth date. What a gift!
We have engraved logos, family crests, Naval ships for change of command or retiring officers, just about anything you can imagine. Below are the custom options.
HAND STENCILED
SILK SCREEN
LASER
GRAPHICS
Logo or seal superbly applied to back for long lasting beauty.
Laser Graphics offer a wide choice of chair treatments to both front and back of chairs and rockers - a variety of tasteful expressions, virtually limited only by your imagination.
Traditional Gold Silk Screen
Lasered Seal - Personal signature, name, dates or event, group, school, organization, business logo and/or name
GOLD FILLED
LASER GRAPHICS
GOLD FILLED
LASER GRAPHICS
MEDALLIONS
(Customer supplied, additional $50)
PERSONALIZATION


Logo only


One line of personalization


Two lines of personalization


Three lines of personalization
(3rd line add $10)

We have over 30,000 laser engravings! (All included in the price.) Call us to see if we have what you want.

RECOGNITION PLAQUES
Choice of Brass Plaque Engraved
or
Back Laser Engraved
Brass Engraved Plaque for recognition, graduation achievements, retirement or special events
$39 Small Brass Plaque (up to 4 lines)
$49 Large Brass Plaque (up to 7 lines)
Lasered Back - award, date, name, recognition message, donor
$39 1st line, $10 each additional line
$50 for a logo or seal
PRICING:
Laser-engraved logo, seal, etc. Price: included.
Gold fill laser-engraving. Price: $50. (400 series models only.)
Gold silk screen logo, seal, etc. If we have the Gold silk screen die on file, price included. ($80 if in the rare event the die has to be made.)
Medallion (you must supply) Price: $50-75.(Call for exact pricing. We'll need the coin or medallion size.)
PERSONALIZATION & LASER ENGRAVING ON THE BACK OF THE CROWN:
| | |
| --- | --- |
| 2 seals on the front of the chair (1st seal included, 2nd seal additional $50*) | 1 or 2 seals on the back of the chair (additional $50* ea.) |
*Licensing or Royalty fees for use of additional seals, not included.
For laser engraving, all logos, seals, crests, etc. must be Black and White, camera-ready artwork. (No color photos, or grayscale.) On simple terms, take your artwork, think of putting it through a fax machine, how it comes out is how it is going to look. Naturally, laser engraving is much finer detail than a fax machine. I recommend artwork be a min. of 600 d.p.i. resolution.
2 lines of personalization are allowed below a logo. Price: included. (3rd line add $10)
On the back of either the chair or rocker, 4 full lines of laser engraving is allowed, or another logo. (One example might be the Anheuser-Busch eagle logo on the front, with the Clydesdales and beer wagon laser-engraved across the back.) Price: $39 for the 1st line, $10 each additional line. $50 for a logo, plus licensing fees, if any.
Brass plaque on back:
Small Brass Plaque: max 4 lines, approx. 30 characters/ line): Price: $39.
Large Brass Plaque: max 7 lines, approx. 30 characters/ line): Price: $49.
(Shipping address to MA add 6.25% sales tax, OH add 7% sales tax.)