Our clients include:
The White House, The Senate, The House Of Representatives, The Military including the Pentagon, Generals, Admirals, Captain's, USS Enterprise, USS George Washington, USS George H W Bush, Head of the US Dept. Of Justice, Director Of Homeland Security, Director of the FBI, Doctors, Attorneys, CEO's, thousands of Universities and Graduates, and hopefully YOU!
See what our clients have to say: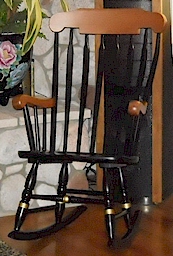 "We received the rocker in perfect condition. It is gorgeous, well made and a beautiful addition to our living room.  In a word "PERFECT". Thank you so much for your great service and craftsmanship I will treasure this chair, especially on cold winter afternoons in front of the fire." Again thank you, Debbie and Howard S.
"Can't ever thank you enough. The chair was absolutely beautiful!!!!! Our teacher was blown away by it, she will treasure it forever. Thank you for making the miracle happen!! You are amazing!!!" Aimee R.
"I wanted to let you know how perfect the chair is! It is of superior quality and my husband absolutely loves it. It will be a family keepsake for years to come. Both of my boys graduated from the same school and so the chair will be passed along one day. My grandfather owned an upscale furniture store where I spent a significant amount of time as a youngster and so I feel qualified to commend on the quality of the chair! Thanks again for exceeding my expectations!"
Sue S.
"All went perfectly! The chair presentation was the highlight of the day. We will repeat this for another deserving comrade in the future! Major General McHale of the Joint Chiefs-of-Staff was impressed as were others."
Warm regards, Adam S.
"You made it happen! We got the chair in 3 days from time of order (including shipping!) and presented it to the Leader of the House of the New York State Assembly. He said it was the nicest gift he has ever received. Thank you for the exceptional customer service and making this happen."
The Honorable Gary F, Assemblyman
"I appreciate all of your help with the Yale chair. It's very nice (and jolly unusual to have the personal touch these days)."
Sheril F.
"We got the chair and it's BEAUTIFUL! We gave you an impossible deadline and you did it. When everyone says 'no', you say 'yes'. This is amazing service. Thank you again so much for helping make this happen."
Tera C.
"Wow!! You delivered as you said you would. I am super thankful. Can't wait to see the look on Ms. As' face when she sees, feels and sits in your masterpiece. Thanks for your superb service and support, sir."
Margarita F.
"Thanks for your excellent customer service, it is much appreciated. I place many orders for the school every day, and it is rare to come across such great customer service."
Marnie L.
"Truthfully, when tasked with finding a chair and having it here in two weeks, I was quite certain it would be impossible. I am truly grateful to have found your company and appreciate the way you worked with me to ensure a quality product and timely delivery. As promised, the chair is beautiful. Thanks again."
Melanie A.
"I received my chair today. Love it, love it, love it. It's just a pleasure to find a business that still honors quality, attention to detail, and customer service. Thanks"
Marcus P.
"The chair is SO BEAUTIFUL and the perfect gift for Jim. We are holding a retirement celebration for Jim at the War Memorial. He is going to be so surprised. It really is the perfect way to honor his years of service as a Navy Captain.
Thanks for the exceptional customer service. Sadly, it is an uncommon blessing in today's business world."
Maria S.
"I ordered a bench from Scott for my daughter's college graduation. During the first shipment through UPS, the bench was damaged during transit (not Scott's fault). Then in less than 3 weeks (normal production time is 4-6 weeks) before graduation day, Scott was able to ship me a replacement bench through a private shipping carrier. The bench was delivered promptly and perfectly. I have to say the bench is beautiful and now sitting in my living room! Thank you very much Scott for making so much efforts to make me a happy customer!"
Andrew from Los Angeles.
"I can't thank you enough for all of your efforts, patience, and diligence in helping us out! You truly are a class act and I look forward to working with you again next year!"
Jill O.
"Scott – We received the chair and we LOVE it! Thank you for providing us with an amazing chair that we can present to our Board Chair."
Shannon M., Assistant to the Chancellor
"I received the chair today. Astonished at the speed of delivery and very happy with the chair itself. Thank you.
Andrew
"On time and handsome chair. The gift was a big hit – Paul is the envy of many. Pleasure doing business with you..."
Cheryl H.
"It looks perfect! Thanks also for the nice Presentation letter and picture. We will give this to Dennis at his Graduation, I know he will love it! I really appreciate your superb personal service."
Betsy H.
"The chair was delivered last week and we presented it last night. You did a great job, on time and a beautiful chair. The recipient absolutely loved it. Thanks so much for your help and professionalism. I will be in touch soon to order another chair for another gift."
Gary H., Vice President
"Thank you again for your amazing service. Can't wait to present the rocker and see Sandra's reaction. You and your business have helped make this special event for a special lady very memorable. I cannot thank you enough."
Brenda H.
"This is my first time ordering this type of chair for Mr. S. and you made it smooth and easy for me. You went above and beyond to help me, it was my pleasure working with you. I hope to do more business with you in the future. Once again thank you for all your help!"
Taylor C.
"The chair arrived in time for Christmas. It was so beautiful, my son actually cried. Thank you for being so helpful and so sweet. Thank you again.
Debbie B.
"The chair arrived the day before our anniversary! He absolutely loves the chair and it is gorgeous. My husband is going to be the Executive Officer on board the aircraft carrier, USS Nimitz and is trying to figure out how to get the chair on board and down the ladders to his office. I'm partial to it in our house so I don't know if that is going to happen...had to point out the possibility that it might get scratched:) Thank you so much for everything, you and your company are awesome!!
Caroline
"I have been a Materials Manager at a hospital in Goldsboro, NC for over 24 years and over 35 years in total dealing with manufacturers, distributors, vendors, supply chain management and negotiating contracts. All I can say is that this country needs more Scott Quinn's! great customer service - a real lost art! Thanks again."
Bob Z.
"You are the super best; thank you very much. My son's chair was delivered today - perfect timing - and he is over the moon. I've seen the photos and it is a very beautiful piece of furniture. I send you my deepest appreciation and thanks for making his 25th birthday so memorable."
Kind regards, Imran
"Thank you, Scott! The university chair I ordered for my daughter came in this past week, much earlier than expected, and it's perfect!! I couldn't be happier and she's absolutely thrilled. It's such a unique piece of furniture and she'll have it for a lifetime. I'm looking forward to my second daughter receiving her MBA next year so I can buy her a chair as well. I'll certainly be back. Love it!!"
Claudette C.
"Wow! My beautiful Westminster rocking chair arrived safely and both the silk-screening and the brass plaque are absolutely perfect. The chair is graceful, unbelievably comfortable, and beautifully made. What a wonderful and lasting way to commemorate my earning my doctorate! My only problem is getting a turn to sit in in the chair. EVERYONE wants to sit and rock. Thank you so much for your excellent service and product. I recommend your chairs to everyone."
Dr. Laura H., Fairfax, Virginia
Scott -- You did a sensational job! Thank you so much. -- Laura
"We absolutely LOVE the rocking chair. It is perfect! Thank you so much for all your outstanding customer service and your follow-up phone call. Thanks again for all your help."
Carol V.,
"Since I last contacted you I have been able to have a sun porch added to our home for Marty. She wanted one for years. As soon as the porch was completed the first thing placed in it was her rocker. That way nobody else gets in her chair. She is quick to tell anyone who inquires about her rocker that it is the best present I ever gave her. That is why, when it came to getting Mom a special gift, it was a no brainer. Looking forward to my family's response when the chair is delivered to my sister's home in Delaware. Thanks for your attention to this matter. Please feel free to pass my e-mail address and/or phone number with any potential customers. My phone number that goes directly to me is (501) 796-4585. I will gladly relay to them my satisfaction with the rocker, the craftsmanship, and the customer service provided. I have no doubt I will be purchasing more rockers in the future now that all my sons are married and planning to start families of their own."
Dave S.
"My brother loved the chair! It was truly a masterpiece....quality workmanship. I thank you for the time and energy you put into getting the somewhat obscure logo and the extra effort in getting here on time."
Chris F.
"The chair arrived right on time and it made a PERFECT hit at the birthday party. Thank you, thank you, thank you!"
Thaddeus S.
"I just wanted to let you know that I of course got the chair in great shape and I was/am very pleased with your product. It's become my favorite chair to do my legal school work in, as well as just sit in -- strange how the old school style of chair can be so comfortable for long hours. Anyways, I'm going to strongly recommend you to colleagues of mine who might be interested in such chairs, and when I start my own practice this august, will probably start to save to outfit my seating area with a pair of chairs."
Cordially, Frank W.
"We received the beautiful chair today! It is even more wonderful than we expected. We purchased it for our son Ted's college graduation gift. Thank you so much for offering such high quality chairs. He is going to be thrilled and I can hardly wait to give it to him. You are the best!"
Sincerely, Dinah J.
"I just wanted to let you know personally how thrilled I am with the way my chair turned out. Everything is perfect and I am extremely proud to have such a unique and dignified piece of furniture to symbolize my work at my Alma Mater. All my friends are impressed and jealous, and my parents are of course thrilled with this one of a kind graduation gift. Thank you so much for all the time and effort you put into it. I know I'm probably pickier than most people, but it was completely worth it to me since this chair is just about the greatest thing ever. Let me express my appreciation for the great work done on my chair. It is truly an heirloom that my family will be proud of for years to come. Thanks again."
Spencer H.
"Thank you-- the Captain's Liberty Arm Chair arrived for the presentation that day. Michael, the recipient, builds chairs from 'scratch' and is very familiar with their history. He was genuinely touched by our gesture, and LOVED the chair! The engraving of the seal and personalization on the top panel was beautiful. Michael commented that 'this was the best gift' and 'the chair would have a place of honor in his next office'it was too nice to be at home were the kids could climb all over it.' I thank you for all your assistance, attention to detail, and ability to meet our short timeframe."
Deborah
"Thanks Scott! It is a pleasure doing business with you!!! I want to buy more furniture now so I will see what all you have on line! I love the personal service and a real live human being with a heart on the other end of the line!!"
Julie
"Scott, I received my Commodore chair last Saturday. It is really great - nice looking and comfortable. The logo work is outstanding. Thank you for taking such good care with the order. I expect we will order another one next fall."
Dennis